So I decided to make some peanut butter cookies this afternoon since I missed out on my usual cookie making during the week due to the transit strike!



(11 ounce) bag hershey's peanut butter kisses, unwrapped
1/2 cup butter softened (1 stick)
1/2 cup peanut butter (creamy or crunchy) (I used crunchy natural peanut butter!)
1/2 cup sugar (I used splenda/sugar blend)
2 tablespoons corn syrup (I substituted with water/sugar)
1 egg
1 teaspoon vanilla extract
1 1/4 cups flour
1 teaspoon baking soda
1/8 teaspoon salt
granulated sugar, for rolling
Beat butter and peanut butter in large bowl until light and fluffy.
Add sugar, corn syrup, egg and vanilla; blend well.
Stir together flour, baking soda and salt add to peanut butter mixture, blending well.
Heat oven to 350 degrees.
Shape dough into about 30 (about 1 1/4") balls.
Press a kiss into each ball, covering completely with dough; reshape into balls and roll in granulated sugar.
Place on ungreased cookie sheet and bake for 10-12 minutes, or until golden brown around edges.
Cool slightly on cookie sheet; then cool completely on wire racks.
Set aside 30 kisses and place remaining ones in a heavy duty resealable plastic food storage bag (I used microwaveable bowl).
Microwave at 50% for 1 minute and knead. If necessary, microwave at 15 second intervals, kneading after each heating until chocolates are melted and smooth.
Cut small piece from corner of bag and drizzle chocolate over cookies.
Place a kiss in the center of each cookie.

<tbody>

<tr>

<td class="amt" align="right" nowrap="noWrap" valign="top">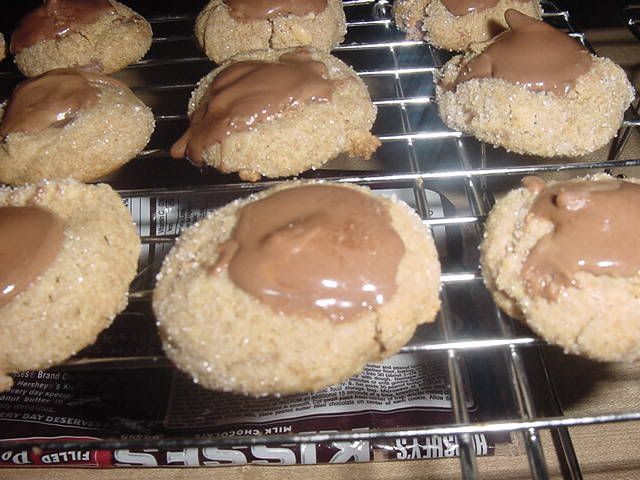 30 cookies
Comments: This was a test run since I want to make them for my New Years party next weekend. They ended up coming out a bit melted since the kisses were in too warm of an environment. Make sure to keep in a cool place so the kisses remain HARD. They still taste delicious however:)