>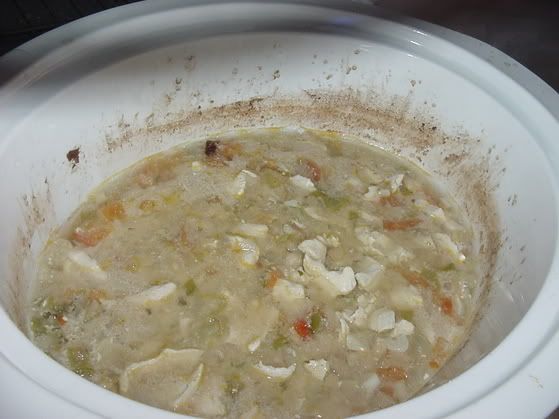 </a>
1 pound navy beans, soaked
1 medium onion, chopped
3 cloves minced garlic
8 ounces chopped green chiles
2 teaspoons ground cumin
1 teaspoon oregano
1 1/2 teaspoons cayenne pepper
1/2 teaspoon salt
2 pounds boneless skinless chicken breast halves
14 ounces chicken broth
1 cup water

Put beans in medium pan and cover with water. Bring to a boil; reduce heat and allow to simmer 20 minutes. Discard water.
Cut chicken into 1-inch pieces and brown if desired.
Put all ingredients in crock-pot.
Stir to mix thoroughly. Cover.
Cook on low 10-12 hours or high 5-6 hours.
Serves 6-8

*This was my first attempt at chicken chili and it was delicious. As usual with chili, you can throw stuff in/change ingredients (I added some red pepper, other veggies). Main thing is to NOT put tomato based stuff in...as the taste is different! Also, if you want more heat, add hotter peppers (habaneros)....I didn't have cayenne pepper either. I added chili pepper/crushed red pepper/cumin for flavoring. Highly recommend the crockpot too...makes everything so tender!


Oatmeal Raisin/Chocolate Chip Cookies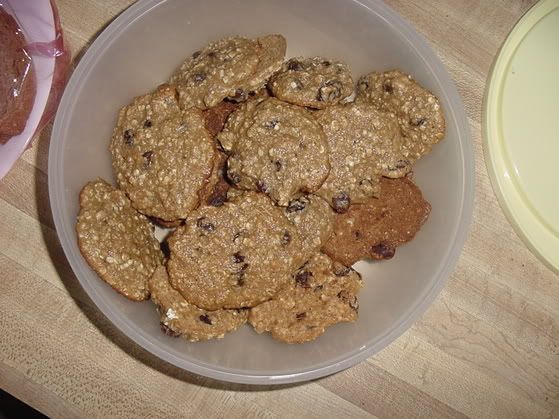 1 cup all purpose flour
1 cup whole wheat flour
1 teaspoon baking powder
1+ teaspoon ground cinnamon (I usually add a little bit of ground cloves and ground nutmeg too but it's not necessary)
1/2 teaspoon baking soda
1/2 teaspoon salt
1 cup apple sauce
1 cup sugar
1 cup (packed) dark brown sugar
1/4+ cup honey
2 large eggs
1 tablespoon vanilla extract
3+ cups old-fashioned oats (I kind of just dump it in until it seems like its enough)
1+ cup chocolate chips/raisins (same as the oats)

Preheat oven to 350°F. Line 2 baking sheets with foil; butter foil (I just greased cookie sheets). Blend first 6 ingredients in medium bowl.
Mix apple sauce and both sugars in large bowl until fluffy. Beat in honey, eggs, and vanilla. Gradually beat in flour mixture. Stir in oats and chocolate chips. Drop batter by tablespoonfuls onto prepared sheets, spacing mounds 2 inches apart. Flatten cookies slightly.
Bake cookies until golden brown, about 10 minutes. Cool completely on sheets. (Can be made 2 days ahead. Store airtight at room temperature.)

**Keep in a safe container far far away from any cookie monster (you have no idea how serious I am!).

*I bake closer to 12-14 minutes. It depends on your oven of course. At 10 minutes, my cookies tend to be a lot more squishy. Last night they came out just right....crispy but still that smooth cookie taste:-) I think my taste testers can agree;-) I mixed semi-sweet choc chips and raisins this time....talk about an explosion of taste!