So as promised...a recap of the Cherry Tree Relay Race. So it seems the rule of this race is that it must be cold! Last year I think I lost all feeling...fortunately this year it was not quite as cold. However, leave it to the MTA to make things interesting with all the service advisories. Since the "F" train was running express through the stop we needed to get off at to get to we had to add an extra 8 blocks for number pickup. Fortunately, pink monkey's teammate lives in Brooklyn and was able to pick up our packets for us:) My team, the speedy beagles, was ready! Except for choosing an order...we knew Sempre Libera was the anchor (she had no choice in that matter!) but AB and I were indifferent to who went first and second. So we did what anyone does in this case..paper,rock scissiors! I lost so I was the middle woman!

We head over to the start line and get there around 9:55 (10AM start). As we're leisurely getting to the start line they are announcing that the race is about to start! AB throws her jacket off and pretty much starts to run. Heh...that's what you get in Brooklyn! So I start to try and get my legs warm...stretched out when one of the volunteers announces that the exchange zone is in a different place. Fortunately, it was only about .2 miles or so but still! So the legs are ready to head on out to take on 3.35 miles...


About 23 minutes later, AB comes around the bend and hands off the slap bracelet! Not without incident as we almost bump into eachother...not exactly a smooth transition! I start my run and laugh for the next 20 seconds about the whole exchange. Then it was down to business. My goal was to run a hard lap of Prospect park. I remembered from last year that there is about a mile of up hill. Granted it isn't extreme uphill, say like the Great Hill or leg 8 of RTB, but it's loooong! I forgot to start/stop my watch but I think I ran around 24:30...7:18 pace or so. Pretty satisfied.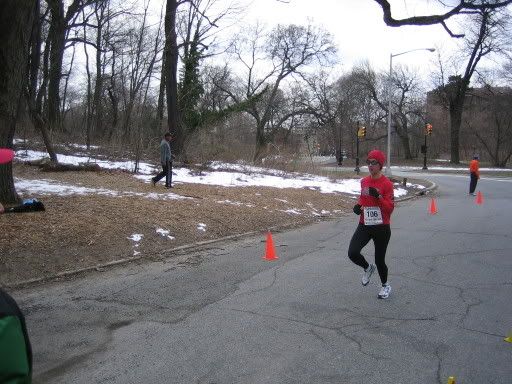 I handed off to Sempre Libera to close things out. She absolutely showed Prospect Park who's boss with another round of sub 7 pace! Our team total came to 1:10:47...good for 8th overall! 1st overall for females! Wheeeeee!!! Unfortunately we didn't stay for the awards ceremony because it took forever but we did stay for the free massage and bagels with cream cheese and hot chocolate:-p At some point I have to head back to Brooklyn to pick up my running thermolite gloves:) Thanks to pink monkey and L'EQUIPE VITE-VITE for picking up the awards on the Speedy Beagles behalf!

In other news, last night I headed west...the UWS that is for an "olympics party." On my way, along 86th and columbus I witnessed something one never wants to see but you know you're bound to see it at some point living in New York: a crime scene/dead body:( It seems a bus hit a pedestrian. Eek!

On a happier note, I'm currently in Philly making a pit stop to visit the parents this weekend. Very successful day for me indeed as I got a new cell phone (yay for new every 2!), shoes for my brother's wedding, a dress for the gazillion weddings I need to attend, a wedding shower gift...as well as cooked dinner. Sheesh that's a lot for one day...oh and did I mention I got up at 8:15...made the 9:15am train at Penn Station? I'm spent....

UPDATE: See Pictures here!